Start saving for your dreams now
Do you always think about that shiny new car, or that DSLR that will make you stand in that league of extraordinary photographers, or that dream house that still is a dream. We are here to help!
To tell you the truth, it's not that difficult as you think. Careful financial planning can help you achieve even the most difficult looking financial goals, whether it be a ferrari or that desirable villa. Have faith in the power of compounding and save a little each month, and that dream would seem achievable. Try our Goal Calculator to verify that it really isn't that difficult.
Start by setting your financial goals and we will keep reminding you time and again to save for your dreams.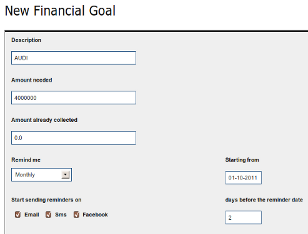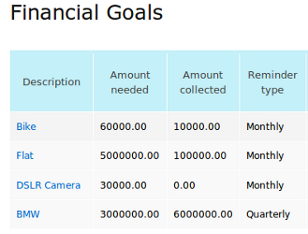 You will receive notifications to save for your financial goals via sms, email and on facebook. Once you have saved for the goal in a given cycle, you can stop the notifications by:
Visiting the website
Accessing the direct link in the reminder emails
Replying to the reminder email with text - "amount = XXX"
On facebook, using our facebook application
You can keep adjusting the amount that you have saved (by visiting the website or replying to the reminder email), and finally when you have saved enough we will inform you on that auspicious day. You can share your happiness with friends and family using the facebook share button. Mission accomplished...Hurrah...!!!